Improvised Music from Japan
Live in concert - the musicians featured in IMJ 2009
"Improvised Music from Japan 2009" Festival
May 26 (Wed.)-30 (Sun.), 2010
We're pleased to report that since its release last December, Improvised Music from Japan 2009 (book/3CDs) has been well received both inside and outside Japan. The 3 discs (1 more than in previous issues of IMJ) contain a total of 31 tracks, with almost all the participating musicians appearing on IMJ/Ftarri for the first time. Bringing them together on disc worked out so well that we decided to bring them together for live performances in a concert venue, and came up with a plan for a 5-day event featuring 23 musicians/groups from around Tokyo. It's a rare opportunity to hear all these musicians play in a single concert event. Don't miss it!
---
May 26 (Wed.)
Polyphonic Parachute (Yuki Kaneko and Takahisa Umehara)
Makoto Oshiro
Saya
Segments String Quartet (Kazushige Kinoshita, Hiroki Chiba, Yoko Ikeda, and Nanko Kumon)
May 27 (Thu.)
shotahirama
Kanta Horio
Suzueri
Bon-no-Kubo (Masahiko Ota, Shitanrou Takasugi, and Naoto Yamagishi)
May 28 (Fri.)
Hayato Kurosawa, Hiroshi Kato, Yu Takahashi, and Ryota Saito
Takahiro Hirama
Shinjiro Yamaguchi
Keiichi Nakano
Takehiro Hishide
May 29 (Sat.)
Taichi Furudate
Riuichi Daijo
Mimiz (Satoshi Fukushima, Kensuke Tobitani, and Yoshihisa Suzuki)
BOBO (Ken Ando)
Tetragrammaton (Tomo, Cal Lyall, and Ken Nobunaga)
May 30 (Sun.)
Hiroyuki Ura
Madoka Kouno
Satoshi Yashiro
Satoshi Kanda
Takuma Makino, Manabu Suzuki, and Junichi Hamaji
---
Location: Loop-Line (tel/fax 03-5411-1312; info@loop-line.jp), Sendagaya, Tokyo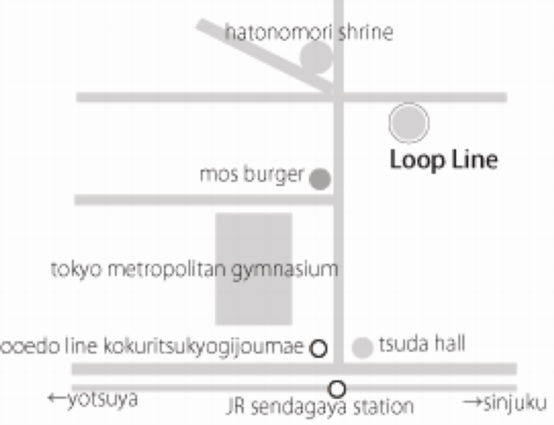 Dates: May 26-30
Wed., May 26 - Friday, May 28, 7:30 p.m. (door opens 7:00)
Saturday, May 29 & Sunday, May 30, 6:30 p.m. (door opens 6:00)
Admission fees:
Single day: with reservation, 1,500 yen (+ 1 drink order) / without reservation, 2,000 yen (+ 1 drink order)
3-day pass (choose any 3 days): 3,500 yen (+ 1 drink order each day)
5-day pass: 5,000 yen (+ 1 drink order each day)
For reservations:
e-mail info@loop-line.jp (attn: Loop-Line) with your name and reservation type (1-day, 3-day, 5-day). For 1-day and 3-day reservations, please specify the dates.
The order of performances for each day is not yet decided.
---
Last updated: May 2, 2010
---